---
FEATURED IN:
MISSING AND PRESUMED DEAD | BY GALE ST JOHN AND DIANA MONTANE
Missing and Presumed Dead shows you how Gale is able to tune in to a missing person, describing what she sees, hears, and feels to detect whether the individual is alive or not. Discover her extensive work with specially trained dogs that search for the missing. Experience high profile cases, including the ones where spirits help Gale save lives. Each extraordinary account―from those that made national headlines to those that are still unsolved―sheds light on the dramatic life of a psychic detective.
---
St. John, Gale; Montané, Diana (2014). Missing & Presumed Dead: A Psychic's Search for Justice. Woodbury Minnesota: Llewellyn Publications. pp. 125–208. ISBN978-0738734958.
---
---
---
FEATURED IN:
THE CUBANS, OUR FOOTPRINTS ACROSS AMERICA | BY FERNANDO HERNANDEZ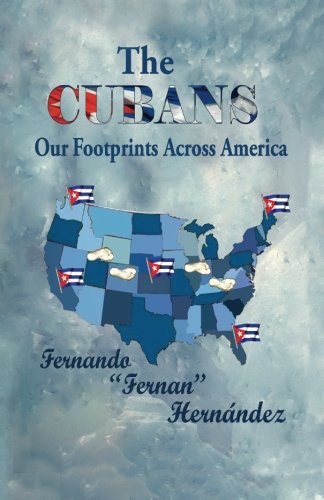 The Cubans Our Footprints Across America traces the contributions that Cuban immigrants have made in the United States from as far back as the 1800s until the present time. In 2012 Fernando "Fernan" Hernandez wrote The Cubans Our Legacy in the United States which profiled over 200 Cubans and Cuban-Americans who have made substantial contributions to the United States in music, education, sports, business, science, politics, and many other sectors of society.
---
In this book the reader will discover how three sisters who became Confederate spies during the Civil War, and thanks to their bravery, a Union warship was captured. New Yorkers and those who visit the Big Apple will read of the work of a structural engineer, born in Havana of immigrant Lithuanian Jews, who was known as "Mr. New York" for his engineering of the city's skyscrapers, including the 70-story Trump World Tower. Read about a surgeon who in 2012 led a team of 150 doctors, nurses, and others in Maryland in the most extensive face transplant surgery ever performed in the world. The book also profiles those who serve the less fortunate, including the co-founder of Florida's largest free clinic serving migrant workers, the working poor, the sick, and families who fall between the cracks of America's social system. This is a book that transcends ethnic, national, racial, gender and religious barriers and bears witness to what Cubans, both political refugees and immigrants, have accomplished in a country where liberty and freedom abound. This is the story of the Cuban-Americans, and the footprints they have left on their path across the United States.
Hernandez, Fernando (2013). The Cubans, Our Footprints Across America. CreateSpace Independent Publishing Platform. p. 33. ISBN978-1490942735